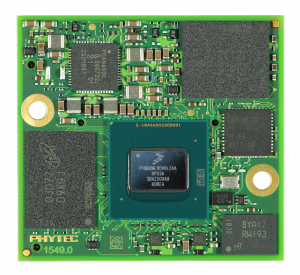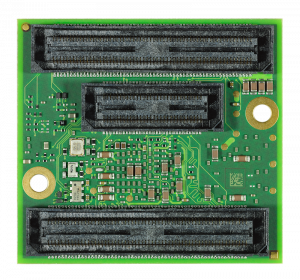 1x HDMI, 1x MIPI DSI-2, 2x LVDS
Edge computing module for accelerated machine learning applications.
The phyCORE-i.MX 8M Plus SOM is one of the smallest connectorized SOMs on the market. Features are not compromised as the 37×40 mm module includes an interconnect of 300 pins including dual MIPI CSI-2 camera, USB 3.0, dual Gigabit Ethernet, and PCIe as well as options for display including MIPI-DSI, LVDS, and HDMI. The features of the SOM combined with on-device machine learning accelerators provide a platform for your next-gen application.
The SOM is now available for members of PHYTECs ALPHA program with general availability in Q1/2021.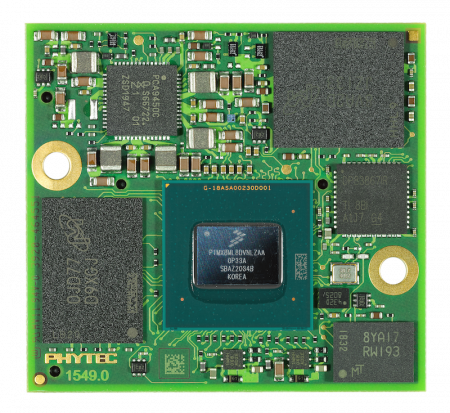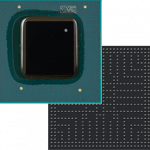 The NXP i.MX 8M Plus family of application processors revolutionizes edge computing by integrating on-chip machine learning accelerators. The dual or quad Arm Cortex-A53 and real-time Cortex-M7 cores are complemented by NXPs Neural Processing Unit (NPU) operating at 2.3 TOPS for fast response time of machine learning algorithms. In addition 1080p60, h.265/4, VP9, VP8 video decode, 1080p60, h.265/4 encode, dedicated Dual Image Signal Processor (ISPs) with resolution up to 12MP, 3D/2D graphics acceleration, advanced audio, and Cadence® Tensilica® HiFi 4 DSP @ 800 MHz for low power voice acceleration are features that support machine vision as well as audio and voice capabilities.
On-device Machine Learning
Fast response time with machine learning hardware acceleration. Run your TensorFlow Lite model directly on the device without utilizing all your processor cores.
Beginning with the NXP 14LPC FinFET process technology at the applications processor, low power design elements are continued on the SOM with selections such as LPDDR4 and use of the NXP codesigned PMIC.
Versatile Display Capabilities
MIPI-DSI, LVDS, or HDMI options to work with the display you have.
Customization options to reduce Bill of Materials including depopulation of connectors as well as the option for direct solder BGA version for complete elimination of connector cost.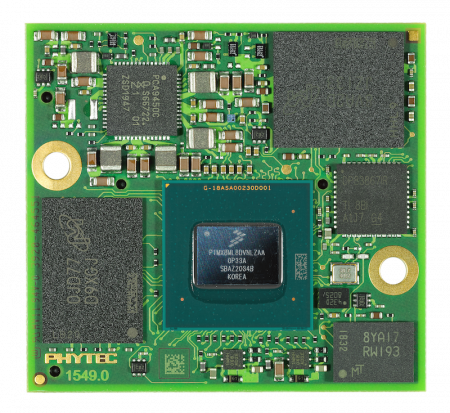 板载器件
| | |
| --- | --- |
| 主要器件 | 可选配置 |
| CPU | NXP i.MX 8QuadPlus |
| RAM | 256 MB – 8 GB LPDDR4 |
| eMMC | 8 GB default / 64 GB max |
| SPI-NORFLASH | 4 MB up to 256 MB Quad SPI Flash |
| EEPROM | 4 KB |
| 以太网 PHY | 2x 10/100/1000 Mbps (TSN Support) |
| SD/SDIO/MMC | 3x (1x reserved for eMMC) |
| 工作温宽 | -40° ~ +85° C |
通用规格参数
| | |
| --- | --- |
| 规格 | 描述 |
| 尺寸 | 40 mm x 37 mm |
| 存储温湿度 | -40° ~ +85° C |
| 工作电压 | 3.3V |
| 连接器规格 | 2x 120-pin + 1x 60-pin 0.5 mm |