Energy efficient, powerful, and compact
The phyCORE-i.MX8M Mini brings a no-connector BGA i.MX 8M Mini System on Module solution to the market. The BGA footprint reduces overall system cost by eliminating the need for connectors. The phyCORE-i.MX 8M Mini was designed with energy efficiency in mind utilizing LPDDR4, an advanced NXP Power Management IC (PMIC), and even taking care to select low power components such as a low power RTC. The i.MX8M Mini processor offers NXP's 14LPC FinFET process technology which improves speed and power consumption while operating fan-less. Although compact, the phyCORE-i.MX 8M Mini offers much in connectivity including USB, I2C, SPI, UART, SDIO, MIPI CSI, MIPI DSI, Ethernet, and PCIe. As always with PHYTEC you can also choose from different pin/package compatible i.MX 8M Mini variants so that you can have exactly what you need in your application.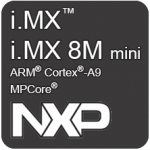 The NXP i.MX 8M Mini family of applications processors bring the power of up to 4 1.8 GHz arm Cortex®-A53 processors to a small and efficient package. Gigabit ethernet and PCIe 2.0 allow for high-throughout expandability.
No connector BGA SOM footprint
The phyCORE-i.MX 8M Mini features PHYTEC Ball Grid Array (BGA) SOM technology. Instead of connectors, the SOM uses a BGA to interface with the carrier board. BGA technology allows for reduced system cost due to no connector requirement and allows for a a lower profile enclosure. PHYTEC offers a layout footprint and services to assist in integrating this BGA SOM into custom carrier board designs.
The i.MX 8M Mini is focused on media support with audio sampling up to 32-bit at 384KHz, DSD512 and TDM support. In addition, the module supports video decoding 1080p60 resolution on the MIPI-DSI (4-lanes) interface with discrete independent 2D and 3D GPU engines. Playback the latest video standards up to 1080p resolution using H.264, H.265 and VP9 (for YouTube) codecs.
The phyCORE-i.MX 8M Mini supports High Assurance Boot (HAB), Secure non-volatile Storage (SNVS), and a Cryptographic Acceleration and Assurance Module (CAAM). These systems, together, allow for secure boot and secure operation of software.
Fan-less operation and small footprint
With dimensions of 40 mm x 37 mm and a low-profile BGA footprint the phyCORE-i.MX 8M Mini is well suited for small enclosures. In addition, NXP has engineered the i.MX 8M Mini processor to be optimized for fan-less operation, low thermal system cost, and long battery life.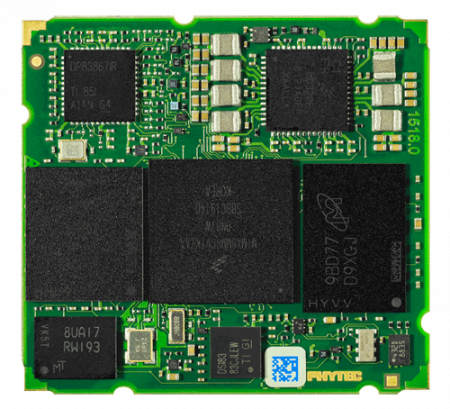 | | |
| --- | --- |
| Architecture | |
| Processor | |
| Processor Hz | |
| RAM | |
| NOR | |
| eMMC | |
| EEPROM | |
| SD/SDIO/MMC Interfaces | |
| PCIe | |
| UART | |
| I2C | |
| SPI/SSP | |
| USB OTG | |
| Ethernet | |
| Audio | |
| Graphics | |
| Video | Decode – 1080p60 H.265, H.264, VP8, VP9, Encode – 1080p60 H.264, VP8 |
| Display Interfaces | |
| Touch | |
| Security Accelerators | CAAM, HAB, SNVS, AES, ARC4, ECC Ciphers, MD-5, RSA, SHA-256, TRNG |
| Camera Interface | |
| RTC | |
| Dimensions | |
| Connector | |
| Supply Voltage | |
| Power Consumption | |
| Operational Temperature | |